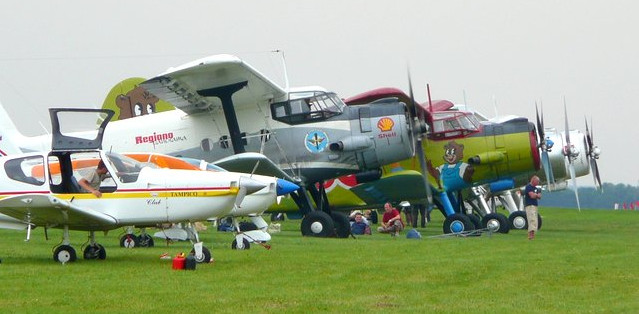 Wilamowo Airfield
The airfield dates back to 1935 and was initially used for sport. Its expansion was initiated by the construction of the Wolf's Lair, which resulted in turning it into a military airfield for passenger and cargo aircrafts. The airfield was also Wolf's Lair's external security system.
Hitler himself made use of that place, as well as his wannabe assassin – Claus von Stauffenberg, who after an unsuccessful assassination attempt fleed from Wilamowo to Berlin.
On 6th of October 1954 a plane with (then imprisoned) cardinal Stefan Wyszyński on board took off and transported him from Stoczek Klasztorny to Prudnik.
In 1998 the airfield became a private property and is now used by Aeroklub Krainy Jezior(in Eng. Lake District's Aeroclub) and is serves as a landing zone for aviettes and small tourist planes. The club offers skydiving training and courses for a range of pilots.
The festival organized on the airfield gained popularity in Poland and abroad. Tens of thousands tourists annually visit the airfield in July/August to witness this amazing spectacle.
Adress:
Wilamowo, Wajsznory
11-400, Kętrzyn
www:
TOURIST INFORMATION OFFICE
pl. M. J. Piłsudskiego 10/1,
11-400 Kętrzyn, POLAND
phone/fax +48 89 751 47 65
open (May – September):
monday – friday: 9.00 – 18.00
saturday – sunday: 10.00 – 15.00
open (October – April):
monday – friday: 8.00 – 16.00