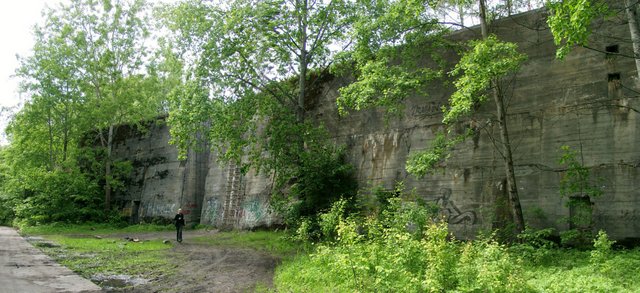 Wolf's Lair – Wolfschanze
In the forest between the lakes Siercze and Moj 9 km east of Ketrzyn is the complex of bunkers, which during World War II was the headquarters of the armed forces high command and Hitler's headquarters. Commander of the Third Reich stayed here for over 900 days.
Construction and expansion of accommodation lasted 4 years. The first buildings were built in August 1940. They were wooden and brick buildings. The plan of attack on the Soviet Union assumed that most of the territory of the European part is scored as early as December 1940, including Moscow, Leningrad, the Caucasus. As the plans failed to realize in 1942, the expansion of accommodation.
Team principal object of command was an independent city in which the function boilers, power plant, water supply with its own water intake, cinema, casino, central telephone-radio, airport and railway station. This town was hidden in the forest complex covering about 800 ha. The main area of ​​apartments, about 250 acres was surrounded by barbed wire and minefields.
The headquarters is related to an event that could change the course of World War II. The special briefing on 20 July 1944 Filp Claus Graf von Stauffenberg has one of the most famous attacks on Adolf Hitler.
In 1959, the land "Wolf's Lair" were made available to the public. Since then come here every year thousands of tourists from around the world. In the vicinity of the bunkers was parking, hotel, camping and a restaurant.
TOURIST INFORMATION OFFICE
pl. M. J. Piłsudskiego 10/1,
11-400 Kętrzyn, POLAND
phone/fax +48 89 751 47 65
open (May – September):
monday – friday: 9.00 – 18.00
saturday – sunday: 10.00 – 15.00
open (October – April):
monday – friday: 8.00 – 16.00